SEMA Award Winning Socket Organizer
An HGTV Featured Product
Socket Mat
The Ultimate Socket Organizer
Shop Now
Product of USA

Free Shipping across North America
Assembled in Canada

Socketmat the Socket Organizer
$29.95
* Sockets not included
Free Shipping Across North America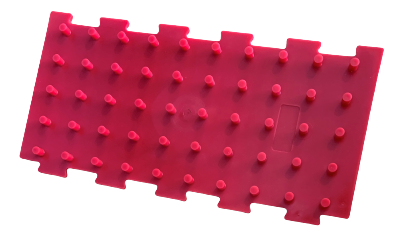 Accommodates 3 sizes: 1/4″, 3/8″ or 1/2″ drive
Easily puzzles together
Constructed of durable, flexible plastic
Easily placed in tool chest drawer or on workbench
This Socket organizer puzzles together 3 mats to fit standard tool box drawers
Can be used individually for smaller tool box drawers
Utilizes adjustable shim sleeves: adjust the peg size from 3/4" to 1/2"
Place large and small sockets together
Adequate spacing between pegs for large fingers
Most of all - Organize It Your Way!
Seeing is believing, so why not have a look?
Client Testimonials:
Sandy O'Brian
I've been using the Socket Mat for months now, and it's still as good as new. It's a great socket organizer, durable, easy to clean, and has made my life so much easier. I highly recommend it.
David Johnson
I recently bought the Socket Mat for my dad as a gift, and he can't stop raving about it. He's been a mechanic for over 30 years and says it's one of the best socket organizers he's ever used.
Charles Armstrong
I'm not a mechanic, but I do enjoy working on my own car. The Socket Mat has been a game-changer - I don't know how I managed without this socket organizer. It's so simple yet so effective.
Dylan Johnson
I don't usually write reviews, but I had to share my experience with the Socket Mat. I bought it for my husband who's always working on cars, and he absolutely loves this socket organizer. It's made his life so much easier, and he's been recommending it to all of his friends.
Brian Keller
I was hesitant to buy the Socket Mat at first, but I'm so glad I did. It's made organizing my tools as a socket organizer a breeze and has saved me so much time. It's definitely worth the investment.
George Warren
Living in rural Alberta usually means high delivery costs. The free shipping is a real lifesaver, especially for a socket organizer.
Previous
Next